Jon Toda: Seabury Hall's tech and music whiz
Maintaining the technology at Seabury Hall is not easy. Someone has to manage the computer systems and the Internet service, oversee purchasing for hardware and software, and make sure everything runs smoothly. Luckily, Seabury Hall has a very talented man up for the job: Jon Toda, who is not only great with technology and computers, but also an outstanding music teacher.
Toda is Seabury Hall's technology director as well as the ukulele and Hawaiian ensemble teacher. He has been working at Seabury Hall for 15 years, and he has made many contributions to the school. But Toda did not plan to be a tech master and music teacher; from high school, he wanted to be an architect.
Born in Honolulu, Hawaii, Toda moved to Maui as a child. He has had a music-filled life, and he has been interested in music since a young age. Toda started off by playing piano, but then learned both guitar and bass. He has also been playing ukulele since he was a child, however, not seriously until he started teaching at Seabury Hall.
After attending Maui High for high school, Toda went to the University Colorado at Boulder, majoring in Environmental Design. He said, "From high school, I wanted to major in architecture, so I went to Colorado, and I was actually studying architecture in the Environmental Design program." When Toda graduated, he followed the plan and he worked in architectural offices for 15 years. "I got my architectural license, and I am still a licensed architect," said Toda.
After that, Toda started teaching a Computer Aided Design (CAD) class to architects and engineers. From that, "I discovered that number one, I like teaching. And number two, I like computers," he said.
Eventually, Toda started working part time at UH Maui College, and then full time to run the college's new non-credit computer program. Working with technology became something Toda did often and enjoyed, so when there was an opening for the technology director 15 years ago at Seabury Hall, he took it.
"I applied for it because I thought it would be a good job. I'd be working with education and computers," Toda said.
Now, Toda does many things for the school's technology department, such as providing the students and faculty with the Internet, managing the computers for administration and the library, and overseeing the purchasing for hardware and software.
"I also help set the policies for the Internet. You know how you can go on the Internet using WiFi with your phones? That's something I pushed for. Many people would say, 'Oh no! Don't let students go on with their phones! That's just for teachers!'" he added, laughing.
But aside from being an outstanding technology director, Toda is also a freshman advisor and music teacher.
Louis Turbeville, the upper school technology coordinator and dean of students, said, "[Toda] has been doing his job, but he has also done a lot more. He is an advisor for the freshman group. He takes a lead in He Ha`upu Aloha for our team. He has always been very active, and he teaches his music class. And he started the Hawaiian Ensemble a few years ago, and now they perform all over the island."
"He is hard working. He is easy to get along with. He is very collaborative, always asks for people's input, gets their feedback. But he is very precise in what he wants to do, and he gets it done," continued Turbeville.
The Hawaiian Ensemble is a program that Toda started a few years ago, and it has been hugely successful. The group performs all over the island, and they get great feedback and reviews. "I have had people come up to me after they have seen the Hawaiian Ensemble perform, and they always have great things to say and how impressed they were," said Turbeville, who has seen many of the performances.
Toda has been working at Seabury Hall for a long time, and has brought much to the school. He is a great technology director, providing us all with secure and fast Internet, computers and printers for the library, and the computer systems for administration. Toda is also a fantastic music teacher, with his ukulele class and the Hawaiian Ensemble both bringing us wonderful music.
Toda has been in the academic world for a long time, and has some advice for students. He said to be flexible, attentive, and open to new ideas and opportunities.
"The main thing in school is to be a good learner. Because you never know where your path will take you in the future. Being able to be a quick learner, I think, has helped me be flexible and change to do many different things, depending on what my interests were," Toda said.
About the Contributor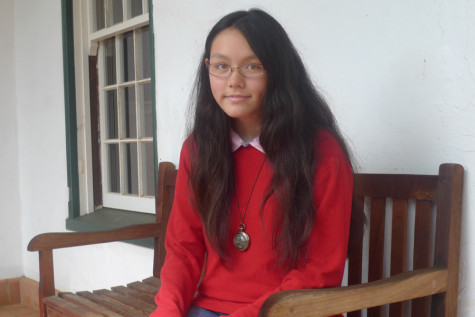 Angela Schmitt, Staff Writer
Angela Schmitt is currently a freshman at Seabury Hall. Schmitt was born on Maui and went to Haiku School during her elementary years. She went to a boarding...