Natasha Salamack: International entrepreneur at age 18
Wake up. Espresso. This is the first step in every morning of Seabury Hall senior Natasha Salamack's life. But when you are a part-time international business woman, devoted Japanese daughter, and on some days, an all-American high school teen living on Maui, a few espressos can be crucial.
Salamack balances a life consisting of sandy beaches and Sunday afternoons spent exploring the tropics of little Maui, and the bright exotic lights of an international pitstop known as Tokyo, Japan. To Salamack, living two separately distinct lives is all too normal.
Born in Tokyo, Japan, Salamack has had half her heart in the beautiful city since she could say the word "エスプレッソ" (espresso).
"'Live for others and others will live for you.' That's something that is centered around my personality. It doesn't always get reciprocated, but I try to live by that value because that's something my mother has always taught me," said Salamack. These words are proved to be true the moment you have your first conversation with the bubbly, smiley, friendly Japanese-American teen. You can almost see the cultural and family-oriented values shinning out of every smile she sends your way.
Salamack has not had a picture perfect childhood, but having her mother as a role model has been constant. "Childhood was very, very different. My parents divorced when I was around 10 years old, so there were a lot of changes, no stability," said Salamack.
She looks to her Japanese heritage as a guidance book to appreciate ethics that an average teenager might not even contemplate. Maybe it was her maturity and ethical thinking at such a young age that began her journey on the fast pace to success.
"Some people know of the opportunities I have been given to travel and work with amazing people from all over the world. In eighth grade, I did a speech at the United Nations 65th anniversary, which was held in Geneva, France, and Tokyo," said Salamack. Held at the European headquarters in Geneva, Switzerland, fourteen-year-old Salamack gave her speech on environmental conservation and world issues with multiple international ambassadors listening to her enchanting passion.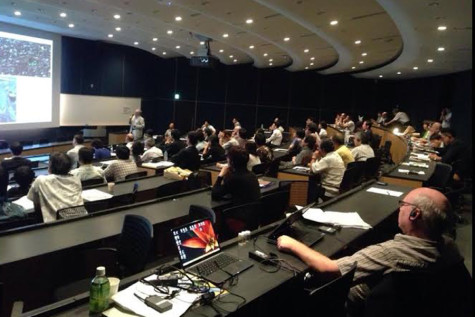 "It's crazy to think I was also asked to join a forum in Okinawa about environmental conservation along with students from all over the world, like Korea, China, Indonesia, Europe. Then there was me," she said.
Venturing out on her own, Salamack packed her bags at fourteen and left America to be exposed to the mature real world of international relations, something that has changed who she is.
"Aside from these speeches, I work with this company called Kakaotalk. It's a company based out of Korea, which you can only view in Japan, but I work in a section called LOVE HAWAII and it's not a blog, but I update them on new events that are happening in Japan and anything that has to do with Hawaii because they love Hawaii." Salamack is one of the youngest businesswomen on Maui who has become a professional in the world of international relations.
"One thing I wish people knew about Natasha is that even though she is quiet, she has such a big heart," said her longtime friend and fellow Seabury Hall senior Maya Okamura. She gives and works with her heart and that is why she is beyond her years in terms of personal growth and professional experience.
"Although we both love business and crime shows, I was surprised to see how much stricter her Japanese heritage practice was in her family compared to mine. Maybe that is why she is so meditative and hard working," said Okamura.
Beyond high school, Salamack is not going to settle for an American experience. "Right now, I want to go to college in Japan if it all works out. Some people might just think, Asia, and that's it. But Japan is incredibly international, and compared to my life in America, I feel like I have more opportunities in Japan coming my way," said Salamack.
Following her mother and grandfather's footsteps in the world of international business, she has a broad future ahead of her. Salamack has had her fair share of professionalism introduced to her because of her grandfather and mother's own successful international businesses in Japan.
"They have taught me the importance of hard work, the value of family, and the importance of not forgetting where I have come from," said Salamack on her cultural influences. Coming from a strict Japanese religion and culture, Salamack has kept these morals tucked under her sleeve and at the foundation of her success.
Whether she is driving along the coast of Ho'okipa on a Friday afternoon with some senior girls or venturing along the Tokyo strip in all her glitz and glam, Salamack is a girl of many worlds. She is a symbol of a new generation utilizing the opportunities the modern world has to offer while balancing the culture and morals of an old tradition, all with the help of some espresso by her side.
About the Contributor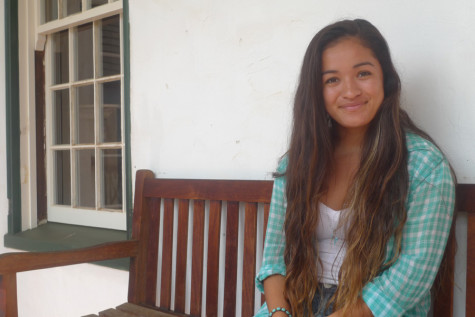 Mapu Andrade, Staff Writer
Don't be surprised if you step into Mapuana Andrade's car and find sandy floors and salty seats. Since she could walk, she is always out on the waves...