Thomas Hayashi: A philosophical leader in search of happiness
Ever wonder who that eccentric, enthusiastic junior is who is always up on stage doing a skit for philosophy club? His name is Thomas Hayashi, and if you look past the frozen yogurt jokes and skits, he is in fact a very influential member of the Seabury Hall community.
Born and raised on Maui, Hayashi has attended Seabury Hall since freshman year, previously attending Pukalani Elementary and Kalama Intermediate schools. In joining Seabury Hall, Hayashi has aimed to be involved in various aspects of the school. He does this through his involvement in student government, philosophy club, and his personal project: debate club.
As a member of the Seabury Hall community, Hayashi has always had an interest in being a leader. Starting in his sophomore year, he has been involved in class government as a vice president and this year as president for the junior class. Next year he hopes to aim even higher and attempt to run for student body president. "I want to do some crazy stuff. I want to make a difference," said Hayashi.
One of his plans is to make assemblies more interesting and diverse through more musical performances and other forms of entertainment. "I want to start of the day right in assemblies. If everyone has a good start to their day they will go through school with a better attitude. Overall they will have a better day," Hayashi said.
Hayashi originally became involved in philosophy club during his sophomore year. "Taking Strohecker's [English] class my sophomore year definitely helped. It interested my thoughts in analyzing texts and thoughts and people. From there, I went to philosophy club and a couple symposiums," said Hayashi. It was this influence that led Hayashi to the discipline of philosophy. From then on, he has been a large part of Seabury Hall's philosophy club community.
Only in his second year with the club, Hayashi is now a major member of the club, leading meetings and moderating the monthly symposiums. Most importantly, Hayashi does not do this for any other reason than the simple fact that he has a deep interest for philosophy. Anyone who knows him well enough can tell you that Hayashi is very enthusiastic about philosophy. Seabury Hall teacher and philosophy club advisor John Dependahl said, "The love of learning. The word love means is to be very passionate about something. Thomas loves [philosophy]. He connects the dots and sees the ideas. Overall he's very excited about it."
If you were to ask what Hayashi's personal philosophy is, it would simply be to be happy. "The only real thing we have in our life is right now. You can't predict the future and you can't change the past, so the only thing you can control is the now. Be happy in the now rather than trying to sacrifice it all just to be happy in some future that you can't confirm," reflected Hayashi. He lives life day by day, not worried about the distant future as he does not have control over it.
"Thomas is a bit of a balance. I have thing I like to call 'Seaburyopoly.' Most students just play the game, going around and around the board. But we know that gets boring after a while. Thomas doesn't just play the game. He's more focused on making the game interesting," said Dependahl.
Hayashi not only applies his leadership skills to philosophy club, but also takes the initiative to make changes to the school. Prior to this year, Seabury Hall was lacking a debate club, an organization many high schools around the country have. Seeing this difference lead Hayashi to create a debate club of his own.
"I had huge a an interest in debate. I liked to argue. I saw that we didn't have a club so I decided to make one," said Hayashi. Loving to argue he found that the best way to express this would be through debate. Debate appealed to Hayashi because of its formality. "Debate is like arguing without emotion. It's pure logic and pure sense. There's no yelling or crying, or any of the other stuff that happens in arguments. It's just pure, logical argument, and that's what I really like about it," he said.
Although it is still in its early stages, Hayashi has high hopes for the club. This year has been mainly focused on building up the club, learning how to debate, and getting the club on its feet. This is accomplished through bi-weekly meetings on Tuesdays and Thursdays where members discuss controversial topics and practice debating. In the future, Hayashi plans to take this to a new level by starting a league where debates with other local schools can take place. Other than that he wants to attempt to coordinate public debates. These debates would take place in the CAC and be open for people to attend. "There's a whole regulation behind debating. It would be really fun and professional. I'm hoping to get this started by the end of this year. If not, then definitely next year," Hayashi said.
While on stage, Hayashi may not seem as professional or as philosophical as one might think. Yet, if you really get to know him, he is very educated and influential person. Perhaps you will get to see this side of him as student body president next year. If not, then attending a philosophy symposium or debate club meeting will show you the true extent of Thomas Hayashi's character.
About the Contributor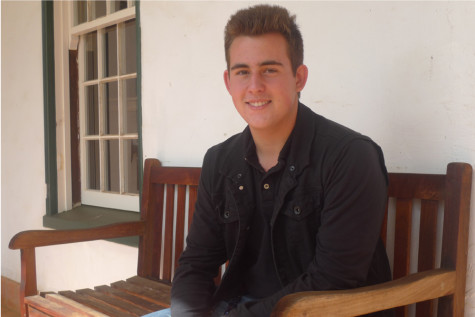 Owen Meadows, Staff Writer
Owen Meadows is a junior at Seabury Hall, and he has attended the school since the sixth grade. Meadows was previously a staff writer for "The Seabury...