From Southern twang to Spanish slang: Senior Simone Baldwin's eclectic tale
She's survived Hurricane Katrina, her parents' divorce, a year abroad in Spain, and Montessori School. What else lies in store for Seabury Hall senior Simone Baldwin? "I'd like to end up working for the United Nations as an international human rights lawyer," she admitted.
Baldwin was born in New Orleans, Louisiana and lived there until Hurricane Katrina struck in the summer of 2005. Following three long months in Boston with her older sister and grandparents, Baldwin reunited with her mother, a physician who had to take care of Katrina's victims, and moved to Maui. She attended Montessori through eighth grade, and in 2011 joined Seabury Hall's freshman class.
Baldwin remembers Hurricane Katrina had a significant impact on the course of her childhood. In anticipation of the coming storm, Baldwin's mother sent her and her older sister, Sophia, to a safer, neighboring city to stay with their father.
"My mom was stuck on a hospital roof for about four days. She had water, Spam, and pre-cooked rice. I was talking with my mom on the phone when we finally got in contact after four hours of trying to get through. She sounded so afraid. I'd never heard that before, and so I became afraid," said Baldwin.
Baldwin was only seven years old. After two weeks, she and Sophia flew to Boston, the "hardest part" of the entire ordeal.
"I was just picked up from my normal lifestyle and plopped somewhere else. After school, I would go home and cry every day. I think the emotions I felt during those two weeks after the storm had built up and then they finally hit once I got to Boston," said Baldwin.
But the overwhelming adventure had only begun. In 2006, Baldwin, along with her mother and sister, packed up her New Orleans life into a few boxes and flew to Maui. She blossomed at Montessori School, enjoying the school's refreshingly unconventional curriculum that allowed her to "go off on [her] own, discover new things, develop [her] own style."
During her freshman year at Seabury Hall, a Spanish 2 class whet Baldwin's appetite for international travel.
"I took Spanish 2 with Mrs. Asato, and I didn't speak a word of Spanish. I couldn't even say 'I don't know.' By the end of the year, I was so comfortable with the language, and by sophomore year, I felt pretty prepared to go to a Spanish-speaking country. That class had a big impact on encouraging me to do things abroad," said Baldwin.
Other influences on her decision to study in a foreign country include her older sister, who similarly studied in Spain during high school, and a conversation before assembly during sophomore year with one of her classmates.
"We started talking about how much we liked Europe. I always had this idea of exchange in the back of my head, but I never actually thought I would do it. I thought I was too afraid, or not brave enough," she said. "But anyways, we were talking about it and she's like, 'I really want to spend a year in Italy' and I was like, 'I really want to spend a year in Argentina!' and then I realized that I wasn't alone, and that maybe it could actually be done."
When Rotary International, the study abroad program Baldwin had chosen to pursue, informed her that there was no availability for exchange students in Argentina, she was initially upset.
"I took that news really hard, and, in retrospect, I don't think I should have because it was still such a great opportunity," she stated. "Sometimes there's a different path you have to take. Now, I'm really glad I went to Spain."
From eating schedules to social interaction, life in Pamplona, Spain was drastically different from anything Baldwin had experienced stateside.
"School is sort of altogether separate from social life. You go to school for about six hours, and you don't each lunch there. For Spaniards, dinner starts around nine or ten, and it's totally okay for their kids to stay out until four or five a.m.," she explained.
For many foreign exchange students, getting used to listening, hearing, and responding to a new language is the most difficult challenge. Conversation in a foreign language demands careful attention and constant effort, as opposed to interaction in one's native language. "In the beginning of the exchange, I would sometimes go home after school and sleep for more than fourteen hours straight. It was exhausting," she said.
But according to Baldwin, making real friends was the most challenging aspect of the first half of her exchange year.
"If Spaniards want to be your friend, they will tell you. If they don't, they won't talk to you. They are very warm and friendly for the most part, but when it actually comes to a genuine friendship group, true friendship is something that you have to work for. Honesty and loyalty are really important. In America, I think it's easier to just pop into a friend group."
Aside from the "typical things" acquired from studying abroad, such as language proficiency and cultural appreciation, Baldwin noted, "On a much deeper level, you gain an understanding of human nature. For the first three months, I couldn't really understand much, so the only thing I could really observe was the way people acted and the way people interacted. I could get a feeling as to who someone really was. I would sit there and watch them, and after a while, it was pretty easy to determine what kind of person they would be just from how they interacted with their friends."
Friend and fellow exchange student Kyla Pinkard, a senior who spent her junior year in the Czech Republic, agrees with Baldwin's perspective. "I don't think that sort of in depth immersion is possible as a tourist, or even when studying abroad in college. As an exchange student in high school, you get to experience life abroad almost as a local, part of a close-knit community," remarked Pinkard.
After such a positive experience in Spain, Baldwin wholeheartedly advocates for traveling abroad at any age. Her words of wisdom to someone considering studying abroad?
"Don't let anyone discourage you if you're interested. Don't let your parents, friends, or teachers convince you that there is some issue with exchange. There is no issue. Just do it. Don't be afraid to step outside of your comfort zone."
About the Contributor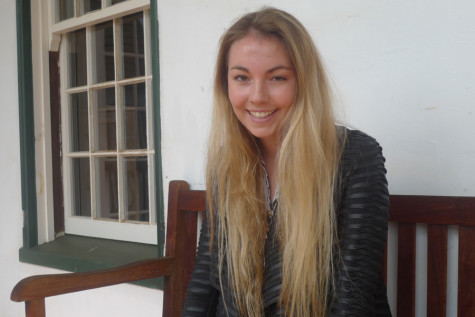 Sarah Armstrong, Staff Writer
Sarah Armstrong is currently a senior at Seabury Hall. Born in Owensboro, Kentucky, a small city known for bluegrass tunes, fried food, and being the birthplace...