Christine Smith: Mom to 300+ teenagers
Christine Smith is not only Seabury Hall's upper school administrative assistant but also many students' "auntie," counselor, and friend. She is someone students can go to for advice, for a hug, or even to joke about movies from the 1980s.
Born and raised in Honolulu, Hawaii, Smith is very knowledgeable of Hawaiian culture and the local community. After going to Roosevelt High School and then University of Hawaii at Manoa, she moved to Maui and has lived here for twenty-three years. She has three daughters: Nicole, Leslie, and Lexi. Her oldest two daughters have already graduated from college, and her youngest daughter, Lexi, is a senior at Seabury Hall.
"The best thing is I don't look like I have daughters that have graduated from college. I'm very lucky. You guys make me young," Smith said when reflecting on her daughters' accomplishments and complementing Seabury Hall students for helping her age gracefully.
When she is not at Seabury Hall, Smith enjoys working out, watching movies from the 1980s, hanging out with friends, going for walks, or just having coffee with her daughters. "What's neat is that my daughters [have the same interests], so we quote a lot of movies. We'll test each other on it. We'll say things like, 'Yeah, you go, Glen Coco,'" Smith said, referencing a quote from one of her favorite movies, "Mean Girls."
Smith did not always know she was going to be an administrative assistant. She said, "I've always wanted to be with kids. I was a preschool teacher at a Montessori school in Kihei. I love being around kids of all ages. If me being a registrar allowed me to do that, then that's fine too. I didn't think I was going to be that. I started going to school to be a teacher and then ended up getting an administrative degree."
In January of 2005, Smith started working at Seabury Hall's middle school. When talking about the busiest parts of her job, Smith said, "All you have to do is walk outside and you see you kids and you see where you work and Olinda and Kula are so beautiful and it makes you feel so grateful. I just love, love, love working here. The people, the administration, everybody is just really kind."
Scott Winham, the head of Seabury Hall's upper school, said, "[Smith] obviously cares very much for the student body, which is very important. She is detail-oriented, which allows her to do her job quite effectively. I think her experience with Hawaiian and local culture are both very beneficial to the school."
Smith enjoys seeing students that have already graduated come visit. One of the best things she loves about Seabury Hall's environment is the community's unity. "Everyone's goal, ultimately, is for the well being of the kids. It's really neat because you work with adults that have that same focus," she said.
"It's pretty neat being in an environment where it's cool being smart. It's cool being an individual. It's safe. That's so unique as a teenager to be in a safe environment and to be an individual. It's so easy to just blend in. I mean, that's how I grew up, you blend in and you just don't say a word, you just go with the flow and you're good. But here, it's like its cool being different. And it's respected."
With Smith working at Seabury Hall, it motivates her youngest daughter Lexi to do better at school. In an email, Lexi Smith said, "Due to the fact that she is the first one to know my grades, I am always trying to stay on top of my work so that bad grades will never appear on my transcript."
Smith is definitely thankful that her daughters have had the opportunity to go to Seabury Hall. Her oldest daughter, Nicole, went to Kamehameha Schools Maui, and Nicole now helps coach Seabury Hall's track team in the spring along with Coach Bobby Grossman.
Smith said, when reflecting on her job at Seabury Hall, "To be a part of [the Seabury Hall community] and to contribute just a little bit, it's a privilege to see you guys grow. I wouldn't change anything."
As registrar, Smith is faced with many responsibilities. One of these stresses is "saying 'no' to Gus's food when you're trying to watch your waistline. It's so good," Smith said. The second stress would probably be her commute to and from Wailuku every day.
After losing her husband two years ago, Smith said she feels as if she has changed her perspective on things. "It was so quick. Lexi was a sophomore, and it was so sad and sudden. We had nothing but support from the student body and administration. And it wasn't like, 'Oh okay, well, if you want the day off, it's fine.' It wasn't like that. It was like I had this huge family of 400 people. After going through that, it changes you. It changes your perspective on things. It makes you not sweat the small stuff. Do I have stressful times? I mean, I'm human. Yes, I have stressful times," said Smith.
An interesting part of Smith's day is having to go into the attic in the Cooper House. She said, "There are always creaky noises, and I know it's supposed to be haunted, but I must say, Aunt Kate must like me because she doesn't scare me."
With Smith's daughter, Lexi, graduating this year, she hopes that the second semester will slow down. "Unfortunately, second semester never does," she said. Her goal is to "relish every moment because I
know that's it, she's my last," Smith said.
In an email, Lexi Smith said, "I will definitely miss her when I leave because not only do I see her before and after school, but I literally spend every day with her. Going to a new school without that may be even harder to adjust to because she has always been there for me when I needed it."
Smith develops close relationships with the students at Seabury Hall, which is one of the reasons why she is so great at her job. Winham said, "The coupling of being good at what she does and developing positive and caring relationships with the students, I think those two things go hand in hand and make her very effective."
While Smith loves her job and Seabury Hall's environment, the students love her too. The end of this school year may be a sad one for Smith due to the graduation of her daughter, but the Seabury Hall community will always be there for her just as she is there for the students of Seabury Hall.
About the Contributor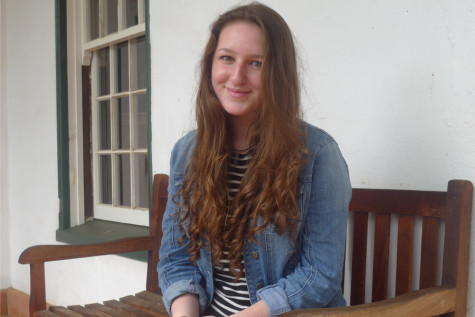 Isabella Blair, Staff Writer
Isabella Blair is a freshman at Seabury Hall. At the age of nine, she moved to Hawaii from Reno, Nevada. Blair attended Lokelani Intermediate School and...