Spartan soccer seeks to spoil seasons
Whether you know it as soccer, football, futbol, footy, or another affectionate monicker, it is undeniable that the sport is growing quickly in the MIL. Seabury Hall's soccer team has competed in the state tournament for years, and the team continues to grow stronger.
This year's team has come across an interesting predicament. Before fielding a single player, the team has done all its need to do to win the Maui Interscholastic League Division II title.
Being the only Division II school to field a boys soccer team this year, the Spartans clinched a spot in the HHSAA Division II State Tournament, starting on Feb. 26, at the Waipio Peninsula Soccer Complex on Oahu.
"We're pretty happy about that," said Coach John Guarin, "Although we would have liked to have worked harder to get that." The team will still have to play a full schedule of Division I opponents.
Seabury Hall has never won a boys soccer state championship. With no Division II games to worry about, the team hopes to use their Division I opponents as a series of tests to gauge their readiness for the state tournament.
"We are not bypassing the MIL season," said Guarin. "It's a tune-up, but we intend to knock some of these guys out."
The team is young this year, and welcomes many newcomers. Junior Julian d'Almeida-Santos, who moved to Maui from Italy in July, will be playing organized soccer for the first time in his life.
"I only played street soccer in Italy. I have never been coached," noted d'Almeida-Santos. "I hope to get better with my left foot, and to improve together as a team. Soccer is a team sport. It doesn't just come down to one player, the whole team has to play well and work together."
The Spartans narrowly lost to Nā Ali'i of King Kekaulike 3-2 in the MIL season debut on Wednesday, Dec. 10. Both of the Spartans' goals were scored by senior Duncan Harrisson.
"I think we played a lot better than the preseason," said Harrisson, of the Spartans's recent game against King Kekaulike. "It was our season opener, so the excitement was high."
The Spartans played a pair of tune-up scrimmages against Baldwin High School and King Kekaulike.
Despite the slow start to the season, the outlook for the team is positive.
"We have a pretty good team," said sophomore Ian Abreu. "Once we start to gel more, we should be able to beat some Division I schools."
Of course, the team can only gel with practice, practice, practice. Unfortunately, that is exactly what has been lacking for the Spartans so far this year.
"We are all optimistic, if we can get some more guys at practice," Guarin pointed out. "Aside from attendance at practice, they need to learn to work together."
Practices may be an issue, as players have to contest with midterm exams, shortening days, and Maui's winter rains.
Being an outdoor sport, the team can only practice as long as they have light to see. Once the sun begins to set, visibility is lessened, and the temperature drops. The team, covered in sweat, needs to seek warmth to stay healthy, and practice must be called.
While the Spartans are faced with competition, weather, and academics, the future is bright for the team. Narrowly being defeated by a prominent Division I squad, the team is primed to play spoiler to the rest of the MIL.
About the Contributor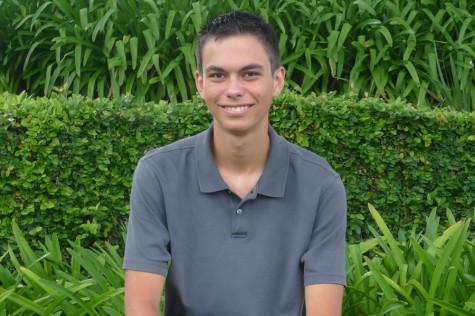 Kalan Birnie, Staff Writer
Kalan Birnie is a sophomore at Seabury Hall. He has been attending the school since his freshman year, and he is the sophomore class president. Prior to...