MAPA's 'Nutcracker Sweets' is a holiday treat
For some, the holiday season represents food, family, and giving gifts, but for others, Christmas means one thing: long and tiring hours spent at the studio preparing for the two shows at the Maui Arts and Culture Center (MACC).
Every other Christmas season, Maui Academy of Performing Arts (MAPA) puts on a production of the ballet "Nutcracker Sweets." This year, the show will be performed on Saturday, Dec. 13 at the MACC.
This ballet tells the story of a young girl named Clara who is given a beautiful nutcracker by her Uncle Drosselmeyer at her family's annual Christmas Eve party. As the night progresses, her nutcracker is broken by her brother, but is quickly fixed by her uncle. After sneaking out of her room to check on her present, things begin to shift and grow, and Clara enters the Kingdom of the Sweets with her beloved nutcracker.
Seabury Hall freshman and lead Gingersnap, Alex Abraham said, "Just being able to dance on the stage, makes me feel the Christmas magic."
Originally choreographed by a Frenchman, MAPA's production is choreographed by two of MAPA's resident teachers, Kathleen McKeon and Virginia Holte, and the Director of Dance, Kathleen Schulz.
In addition to choreographing a large portion of the dances, Schulz is also the head of costumes for every dancer in the show.
Not only have the teachers been working tirelessly, but the dancers have also been dedicating their time during this busy season to learn and perfect this magical show.
In the midst of midterms, family obligations, and everything else that is a result of this hectic season, these dancers have committed to give their time and energy in order to make this show a success.
MAPA dancer and Seabury Hall freshman, Grace Titley said, "The joy you feel when you finally walk on stage and get to perform after the long hours of rehearsal makes it all worth it." In addition to Abraham and Titley, there are ten other Seabury Hall students in this ballet.
The joy the performers feel emanates throughout the audience, which creates a magical aspect to the show. This spell-binding show will capture the hearts of children and adults alike.
"Nutcracker Sweets" will be performed on Saturday, December 13 at the MACC. There are two shows at 2:00 p.m. and 7:00 p.m., and the tickets are $22 dollars for adults and $18 for children under twelve.
About the Contributor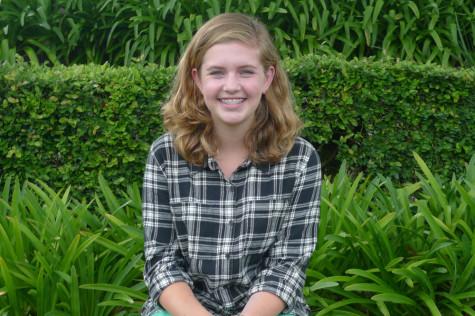 Zoe Tezak, Staff Writer
Zoe Tezak is a freshman at Seabury Hall. She attended Doris Todd Christian Academy from preschool to eighth grade prior to attending Seabury Hall. Tezak...