Seabury's surfing star: Ridge Lenny
Go down to Ho'okipa on the weekends and there is a good chance senior Ridge Lenny will be there heading out to surf. Most may recognize Lenny as one of the surfers to compete on the Seabury Hall team, but it may come as a shock to some that Lenny is one of Maui's rising teenage surfers.
Lenny originally picked up surfing at age three; from then on, he was hooked. By age six, he was already competing. Together, Lenny and his older brother, Kai, both rose up to become recognized surfers.
"I like surfing because it's an escape. You get away from everything on land," said Lenny. In this way, surfing is his way of being free and doing something he loves, without having to think about other aspects of life.
This love for surfing lead to a love for stand-up paddling as well. He has become well known for his skill and is well recognized, being sponsored by various companies including Hurley, Hi-Tech, and Naish.
Lenny often competes in competitions for both surfing and stand up-paddling. He has even competed outside of the United States in places like Chile and France. Lenny competed very well in these competitions, often competing in the finals as a top competitor.
His skill was shown when he took home first in February's Na Kama Kai Challenge. Then, in August, he won the Lahaina Harbor stand up-paddling event.
In order to prepare for these competitions, Lenny takes the initiative to train. He does this by surfing on weekends whenever he gets the chance. Besides surfing, Lenny does weight training in order to keep himself in shape.
"Wake up early. Surf, eat, surf again, eat lunch and then surf. That's my average day," said Lenny.
Not only does this prepare him for his independent career, but it also keeps him ready for competing along with the Seabury Hall team this spring. He hopes to achieve his goal of winning an event this year.
"Surfing is fun because all my friends do it," reflected Lenny. This stems from the team aspect of surfing, which is especially important when it comes to the spring surfing season where Lenny is part of a group.
Last year, Lenny competed with the Seabury Hall surfing team and took them to great places. His individual skill helped him to further the team. The team aspect adds a new sense of accomplishment compared to the usually independent surfing Lenny does outside of school.
In terms of his future, Lenny does not see himself competing professionally. However, this does not mean he does not want to be connected to the sport. "I want to work in the industry. Maybe for Hurley or something," said Lenny.
He still plans to make surfing a part of his life, just not at the professional level. In this way he can be around the sport he loves, even without competing.
Next time you are down at Ho'okipa, make sure to take a look out on the waves. You may see Seabury Hall's own Ridge Lenny shredding the waves, and you will probably be shocked by his skill and dedication.
About the Contributor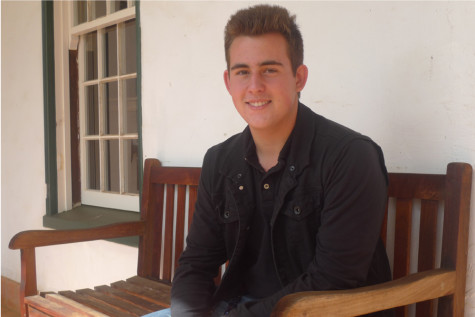 Owen Meadows, Staff Writer
Owen Meadows is a junior at Seabury Hall, and he has attended the school since the sixth grade. Meadows was previously a staff writer for "The Seabury...