Fall in love with fall's latest flicks
The fall movie season has finally arrived! From biographical films to action mega-hits, here are five fall movies that are sure to astound audiences this season.
"The Theory of Everything" (Nov. 7)
"The Theory of Everything" recounts the story of physicist Stephen Hawking. The film stars Eddie Redmayne, whom you may remember from "My Week with Marilyn," as Stephen Hawking and Felicity Jones as his wife. The film follows Hawking from his university days, and takes viewers through his struggles with a motor neuron disease, his marriage to his first wife, and his discoveries in physics.
"Dumb and Dumber To" (Nov. 13)
This sequel to the hugely popular comedy released in 1994 has been awaited for 20 years. Starring the power comedy duo Jim Carrey and Jeff Daniels, this film follows as Lloyd (Jim Carrey) and Harry (Jeff Daniels) go on the search for Harry's long-lost daughter. With ridiculous hair cuts and even more ridiculous jokes, this film is bound to leave your stomach hurting from laughter.
"The Hunger Games: Mockingjay" (Nov. 21)
The first part of the final chapter of this blockbuster series, "The Hunger Games: Mockingjay," has arrived. This highly anticipated film stars Jennifer Lawrence, Liam Hemsworth, Josh Hutcherson, and Woody Harrelson. Fans of this series should be really excited for this film, since the previous two have actually been well shot and well acted, unlike some other popular recent series ("Twilight," anyone?). The gripping plotline begins at the suspenseful cliff hanger from the previous movie, and follows Katniss and her rebel allies as they take down the Capital and President Snow.
"The Imitation Game" (Nov. 28)
This true story stars Benedict Cumberbatch as Alan Turing and charts Turing's journey to try and crack the Enigma Code used by the Nazis. This film also stars Keira Knightley and Mark Strong, and it is bound to leave viewers on the edges of their seats.
"Unbroken" (Dec. 25)
"Unbroken" is based on Laura Hillenbrand's bestselling book and the true story of Louis Zamperini. Directed by Angelina Jolie, this survivor story will leave you inspired and in tears. Zamperini, an Olympic track and field star, who enlists into the Air Force during World War II and is captured by Japanese forces. The film has received some Oscar buzz, and it will be certainly worth watching.
About the Contributor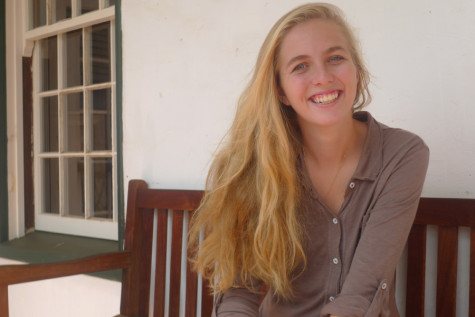 Tait Longhi, Staff Writer
Tait Longhi is a senior at Seabury Hall. She has been attending the school since her freshman year in high school, and she has enjoyed it tremendously....