Seabury Hall's boys basketball team slams back into action
The fall athletic season has just ended, and many of Seabury Hall's athletic teams will be on hiatus until next school year. However, the end of the fall athletic season marks the beginning of winter athletics, leaving room for more teams to join in on the action, including the return of the boys basketball team.
The boys basketball team will return to represent Seabury Hall when they play their first preseason game on Thursday, Dec. 4, and their first MIL game will take place in January 2015 against Lanai. If the team does well enough this season, they will be able to compete in the state championships.
"It's exciting, it's fun, just like any other sports and its good to people to express themselves, to be on the field and the court," said senior varsity player Rip Pahukoa about his experience playing on the team.
Last year, the boys basketball team had an exciting and thrilling season. The team was able to compete in games against other high school boys basketball teams. They even had chances to travel and compete on Lanai, Molokai, and Oahu. They successfully won the MIL championships and were able to compete in the state championships.
"Last year, we finished the highest in the state competition for Division II by coming in third, and that's the highest MILs we've ever done," said returning basketball player senior Bryce Barbier.
This year, the boys basketball team will have a new coaching staff with Scott Prather as their new head coach, who is taking the mantle of the role from the previous boys basketball coach, Louis Turbeville.
However, this is not Prather's first time coaching for Seabury Hall. In the past, Prather coached the boys basketball team five times before taking a break from coaching. With Prather returning as the coach this year, he is sure to bring new ways of coaching and practicing with the team.
"I'm excited for competition. I really enjoy watching the boys compete against other teams around the islands. I think we have a very talented team with a lot of depth this year, and I think its going be fun to put them out there against the best the MIL have to offer as well as the best the state has to offer," said Prather.
"I'm looking forward for Coach Prather and his new approach and anything he can offer to our team from his experience," said Jordan Haylor, a senior and a returning basketball player.
With the basketball season starting soon, many team members are excited to get back on the court and play for Seabury Hall, while new players are excited to be able to represent the boys basketball team.
The team will officially start practicing on Monday, Nov. 24, and the team will be working hard with strong effort and determination. They practice for about two hours on Mondays through Friday, and two to three hours on Saturdays.
Prather said, "I'm sure they're going to be a lot of areas were going need to improve and start identifying those areas once we start practicing in a full time basis."
This year, the team has set high goals this year: to be able to reach states championships once again and do better than their achievements last year. They are sure to give their A-game on the court.
"I think we're going to develop great. We're going to have a very strong coaching staff, and I think the players are going to enjoy playing the system that I have in mind and hoping that as long as we stay on time. I am planning on having a fun and hopefully successful season," said Prather.
Boys basketball will soon be back in the action with as much motivation and spirit as they have shown in their previous years. The team will give it their all this season, which is sure to make their games both thrilling and exciting. Be sure to give the team your support by attending their games, as you do not want to miss the excitement on the basketball court.
About the Contributor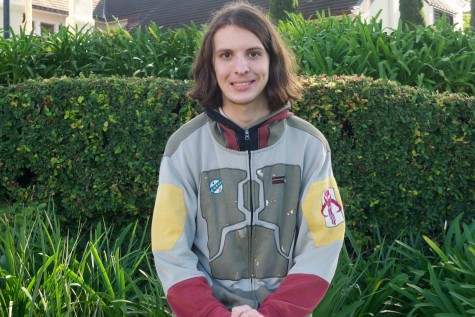 Logan King, Staff Writer
Logan King returns into the action of journalism for the second year, as he has previously been a part of the Seabury Tides staff in his junior year. He...