The Lady Spartans look to bounce back on the basketball court
The Seabury Hall Lady Spartans teams tend to carry prolific records with esteem and a lot of spirit surrounding their events. But another Lady Spartans team tends to slip through the flurry of excitement we make about their male counterparts.
The Seabury Hall Lady Spartans basketball team has much for you to be excited about.
Narrowly missing an MIL title last year, the team is under new coaching. Coach Heidi Burger has stepped down, and Coach Tony Haleakalā is leading the team this year.
All but two players are returning, and the team is expecting to add at least three new freshman players. The returning players are now a year older, and they are hungry for a MIL title.
Senior captain Allie Rudow, a defending All-MIL post player, knows this is her last chance to bring home a banner. "I'm really excited for this year. We've got a new coach, new players. It's going to be really good," she said.
Rudow is ready to make her rounds and make a statement. "I think if we really work hard we can actually go to states, and beat Moloka'i. Because they're a tough opponent."
In fact, Moloka'i has been a pain for Seabury Hall over the past few years. "They have big players. Leihiwa always scores on us a bunch. But I really think we can beat them this year if we set our minds to it," said Rudow.
With only one senior, many may think the team is young and inexperienced. But point guard Tehani Akina-Ancog '16 disagrees. "I'm excited for our freshmen, I haven't seen all of them play, but the ones I have seen look pretty good. I'm excited for [Ana Lavongtheung '17] to come back. She did really well last year," she said.
Akina-Ancog, who has been playing since the age of ten, has adopted a bit of a leadership role on her own. "I want to set a good example, and develop a good work ethic," she said.
Akina-Ancog also has a clear goal. "We want to go far this year. Further than last year. We want to win. We knew we could last year. But we got a bit overwhelmed at the end of the season," Akina-Ancog said.
The Lady Spartans were indeed overwhelmed last season. The team suffered a myriad of concussions and leg issues. Plagued by the injury bug, they fell to as low as seven players available at one point in the season.
In a sport that fields five players on the court at a time, two substitutes were far from enough to keep the girls rested.
New coach Tony Haleakalā understands he has to make some slight tweaks to his coaching style. For the past five seasons, Haleakalā has been an assistant for the Seabury Hall boys basketball team.
"Jumping from the boys team to the girls team is going to take a lot of patience," said Haleakalā. "And time," he added.
Haleakalā likes to teach the fundamentals, and have his team constantly hustle on the court.
"I like to wreak havoc," Haleakalā said. "I like to run and play aggressive defense. I like to take the ball away from the other team before they can set up."
Coming to the Erdman Athletic Center this winter is a flurry of excitement. Not only in the stands, but also on the court.
About the Contributor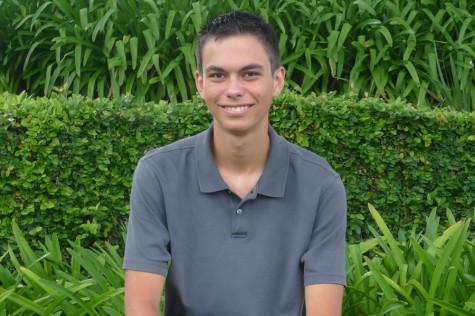 Kalan Birnie, Staff Writer
Kalan Birnie is a sophomore at Seabury Hall. He has been attending the school since his freshman year, and he is the sophomore class president. Prior to...