Despite loss of seniors, Seabury Hall's swim team stays positive about the season
At the end of every school year, sports teams must say goodbye to their graduating seniors. For Seabury Hall's swim team, this was especially difficult at the end of the 2013-2014 school year.
The loss of seniors last year took a huge toll on the team. The team was already small, but after losing so many talented swimmers, the current swimmers are anxious and excited about this new season.
Last year, many skilled swimmers graduated from Seabury Hall. Coach Cameron Craig said, "We lost a lot of talented and mature senior swimmers who were difficult to replace."
This year, the team has only four senior swimmers. The swimmers think that it might be a little difficult to adjust without their former team members in the beginning, but they will pull through and hopefully make it to states.
Craig started coaching the team last year when he first started teaching at Seabury Hall. Before coming to Seabury Hall, he coached for twelve years in Alabama, starting at the age of fourteen as an assistant swim coach with young children. He was the head coach of the Indian Hills Country Club team in Tuscaloosa, Alabama.
Craig mentioned that the swimming community here at Seabury Hall is a very tight knit community, which he was not a part of before. Since this is his second year with the team, Craig hopes that everyone will make it to MILs.
The Seabury Hall swim team has 20 students this year, which is a relatively small team compared to teams from schools like Baldwin High School. The team's smaller size can get frustrating, but the swimmers try their best. Junior Kai Iinuma-Nakaaki said that, "It doesn't really matter as long as we just get together and have a blast."
A majority of the swimmers on the team also swim in clubs, but most swimmers think that high school swimming is more rewarding. Senior Sarah Armstrong said, "There's more of a team aspect to high school swim teams than club swimming."
Freshman Paige Nagahama said, "Being a part of a high school swim team is cool. I think it says a lot about a person; they are dedicated to the sport and represent their school name."
The team hopes to make it to MILs and possibly make it to states. Even after losing some of their best swimmers, the swim team continues to be hopeful and looks forward to the season.
Craig said, "It takes a lot of dedication and a lot of heart. It takes a unique kind of athlete to want to push themselves and be isolated and essentially go through the thankless task of that kind of training for the delayed gratification of doing well."
The team feels a bit intimidated by going to states because, as Iinuma-Nakaaki said, "The state meet gathers all of the club swimmers, and everyone knows each other, but the competitive level is very high." Nevertheless, the team hopes to get to that level this season.
After losing many talented swimmers last year, Seabury Hall's swim team will have to push through this season to succeed. Their first meet this season is on Saturday, Dec. 13. The team looks forward to trying their best while doing what they love, and possibly making it to MILs along the way.
About the Contributor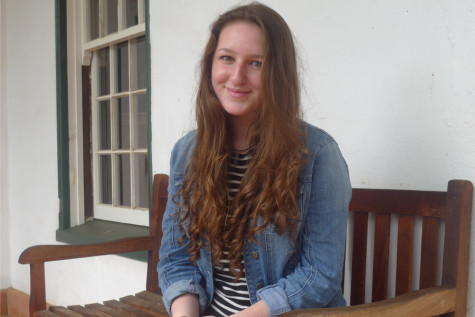 Isabella Blair, Staff Writer
Isabella Blair is a freshman at Seabury Hall. At the age of nine, she moved to Hawaii from Reno, Nevada. Blair attended Lokelani Intermediate School and...