The Young Adult Book Club welcomes all bibliophiles
Hard cover, paperback, or Kindle. High school student, teacher, or staff. Whether you have read the entire book or just half of it, everyone is welcome at Seabury Hall's Young Adult Book Club.
The leaders of the club, sophomores Aria DiMartino and GIllian Hedden, agree that, "If you read the book or even just get halfway through the book and as long as you're an upper schooler or work at the school, you can come."
Both DiMartino and Hedden were in the Young Adult Book Club last year when it was lead by Celia Boone ('14). Because of their involvement last year, they have been able to establish some goals they hope to accomplish this year.
DiMartino said, "One of my goals is to try and get more freshmen in it so we definitely have more people in it next year."
Hedden added, "Getting more people to attend book club, getting more diversity in the books that we read: the characters, authors, gender, race, everything."
"Miss Peregrine's Home for Peculiar Children" by Ransom Riggs was the first book the club read this year. This book met both Hedden and DiMartino's standard of a diverse book since it tells the story of a boy who follows a group of clues to an abandoned orphanage on a Welsh island. As events unfold, he finds more clues to and questions concerning his family.
Hedden said, "At every Book Club meeting, people suggest [books], so that's where we get a lot of the ideas from."
After brainstorming, the club decided to read "Jane Eyre" by Charlotte Brontë for its second book of the year which club members are currently reading. "Jane Eyre" narrates the fictional life of a young woman named Jane Eyre from her teen years into her adulthood.
"A book that we're thinking about doing in the future is 'A Thousand Splendid Suns'," Hedden said. "A Thousand Splendid Suns" is a novel by Khaled Hosseini depicting the diverse culture in Afghanistan.
In addition to reading more diverse books, DiMartino and Hedden are making a point to try and get more people to be involved in the club. They both remember how small the club was last year, and DiMartino said, "We didn't really have many people there, but we read some really good books."
This is a major goal for both sophomores because they know that to keep the club going they need people who are involved in it.
For both DiMartino and Hedden, this is their first time leading a club at school, but Dimartino said, "It's a pretty easy club to lead. I mean, it's not very involved to lead Book Club, but it really depends on the people who like reading and just trying to get people involved."
Hedden added, "It's just easy to be around people who like the same things you do. People who love to read, really love to read."
In terms of joining the club, Hedden states, "It's a pretty casual club." As long as most of the book has been read, anyone can come.
Seabury Hall's Young Adult Book Club meets every three to five weeks, depending on how long the book is. The next meeting is on Thursday, Nov. 20th in room 203, and they will be talking about "Jane Eyre" by Charlotte Brontë. Ms. Lindsay has ordered a few copies for the school library.
About the Contributor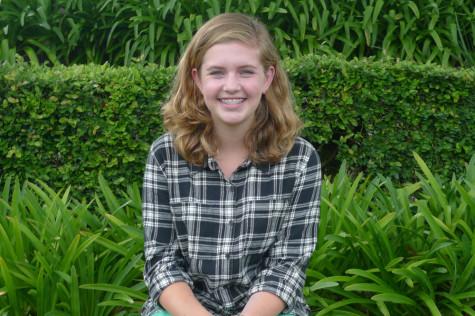 Zoe Tezak, Staff Writer
Zoe Tezak is a freshman at Seabury Hall. She attended Doris Todd Christian Academy from preschool to eighth grade prior to attending Seabury Hall. Tezak...