Review: Go pay your respects to 'St. Vincent'
As Brother Geraghty (Chris O'Dowd) says in the new movie "St. Vincent," "[a] saint is a human being we celebrate for the sacrifices they make, for their commitment to making the world a better place." This film is magnificent in making sacrifices to some of the more cliché plot lines many movies take these days.
At a time where most movies are sequels, remakes, or based on books, "St. Vincent" is an original story written and directed by Theodore Melfi.
Bill Murray plays the main character, Vincent MacKenna, an alcoholic Vietnam veteran with a gambling problem. He is in love with a pregnant Russian prostitute (Naomi Watts), and he lives alone in a New York home with his cat, Felix. Vincent is a rude, grumpy man whose only drive is to gamble his limited life savings to repay his loan shark, played by Terrence Howard.
Melissa McCarthy plays Maggie Bronstein, a mother going through a divorce from her "scumbag, cheating," soon-to-be ex-husband. To escape the tension of the divorce, Maggie and her son Oliver, played by Jaeden Lieberher, move to a new, safer environment, which just happens to be the home adjacent to Vincent's.
Vincent becomes Oliver's babysitter when Maggie lands the late shift at the hospital, working as a CAT scan technician.
As you can imagine, Vincent's babysitting techniques are far from responsible and even farther from ideal for a child. Vincent often takes Oliver to the racetrack to bet on horses, or to the local bar until the bartender cuts Vincent off.
Bill Murray performs considerably well in one of his few steps away from the realm of comedy. Dark and grumpy with a sadistic sense of humor, Murray is outside of his usual role as the slapstick goofball inserted for comedic relief.
"St. Vincent" is a breath of fresh air, proving that it is indeed possible to cast Melissa McCarthy in a movie without her size being a running gag. In fact, "St. Vincent" has no jokes regarding McCarthy's size. None. Yes, Hollywood, it is indeed possible.
McCarthy gives a good performance, managing to be a stressed single mother working late hours who can still be funny. Watts, playing a Russian prostitute with a baby on the way, has an difficult, albeit, unique character.
All in all, "St. Vincent" is a feel-good movie with a darker twist. The sacrifices made thrust the screenplay to a level above most of the others in Hollywood today. The movie is definitely worth seeing. Whether alone or with others, everybody will leave the theatre with a smile on their face.
Our grade: A
Runtime: 102 minutes
Rating: PG-13
Genre: Comedy
Director: Theodore Melfi
Starring: Bill Murray, Melissa McCarthy, Naomi Watts
About the Contributor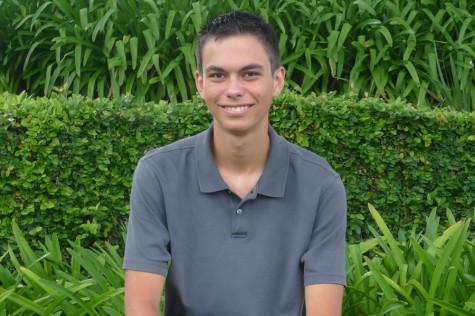 Kalan Birnie, Staff Writer
Kalan Birnie is a sophomore at Seabury Hall. He has been attending the school since his freshman year, and he is the sophomore class president. Prior to...