Student Spotlight: Ruby Turner
Ruby Turner, a member of Seabury Hall's class of 2016, has been a part of Seabury Hall since her freshmen year in 2012. Turner has a passion towards the arts; she enjoys expressing herself in designing and painting. While at the same time, she is also into the musical arts, especially singing and playing the guitar. She enjoys the creative challenges that come with her passions because they make both of her passions more fun. Turner is a kind student and easy to talk to, and she tends to help others whenever she can. She is a friendly, passionate student who can be described as creative, alternative, and optimistic.
What is your favorite subject in school and why?
"I like art because it's a good way to let off steam and express myself and it's like deep things that come out of art that you don't even expect to put on the paper and they end up there and I think it's cool. I like the artistic process."
What extracurricular activities are you involved in and why?
"I do dance because its fulfills my PE credit, and it's a lot of fun. It puts me in a good mood. It's a fun way to stay active."
What do you want to be when you grow up and why?
I don't know. I want to do something in probably design because it is what I love to do and it is never-ending, and I don't get sick of it. Just something that's always changing, like something kind of nomadic. I want to do something that moves around. I don't want to fall in a strict, everyday schedule that's always the same. I'm not big about routines."
What do you like to do outside of school?
Outside of school, I play guitar, and I hang out with friends, and I sew, and I like to bake, and I like to ride bikes, and I like to run, but usually I'm lazy and don't do all these things. But they are what I like to do."
What is one thing you love?
"I love pumpkins, a lot, a lot, a lot. So there's that."
About the Contributor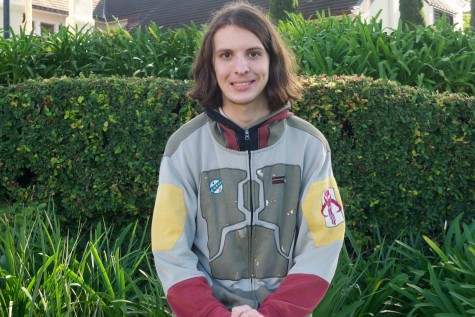 Logan King, Staff Writer
Logan King returns into the action of journalism for the second year, as he has previously been a part of the Seabury Tides staff in his junior year. He...