"Thoroughly Modern Millie" charms both suitors and audiences
Seabury Hall's highly anticipated and highly talked about production of "Thoroughly Modern Millie" will open on Friday, Nov. 7. It stars seniors Mikela Wesson, Zeb Mehring, Elle Bega and junior Kaimana Neil, all of whom are experienced actors. It should be a dazzling show.
Director David Ward said, "In my experience here, I think it's going to be one of the strongest shows we've ever done. Honestly, the kids are working so hard, and the leads are just dynamite, amazing." This will be the twelfth musical that Ward has directed at Seabury Hall.
"Thoroughly Modern Millie" is a musical set in the 1920s about a young girl who moves from a small town to New York City. Determined to marry for money and not love, Millie takes up the flapper lifestyle to attract a wealthy suitor. However, things take a turn for the worst when she checks into a hotel only to be sucked into a slavery ring. As far as the ending, you'll just prepare yourself for humor, love, and head-bopping, toe-tapping songs.
Senior Mikela Wesson, who plays the lead role of Millie, has had plenty of experience when it comes to high-stress, high-demanding roles. From playing the female version of Polonius in last year's production of "Hamlet" to the lead as Dolly in the musical "Hello Dolly." Wesson is up for any challenge.
"[Acting] was sort of my escape and just kind of became my favorite hobby. I just loved finding out different ways to express your emotions through other characters," said Wesson.
Wesson's final musical at Seabury Hall has been her dream production since she was very young. "Playing the part of Millie is a dream come true. It really does mean the world to me," said Wesson. "As a senior, I hope that I am inspiring to some underclassmen," she said.
To prepare for the role, Wesson said, "I can take a lot of personal experiences, like for example this summer I went to New York City by myself, and stayed there by myself. [Millie]'s very relatable to me. Just her drive to follow her dreams is very inspirational, so I tried to channel that with everything, and performing."
Junior Kaimana Neil, the male lead of the musical, is also no rookie to the spotlight. His most recent role, also a leading one, was of Buddy in the Seabury Hall's production of "The Diviners" last year.
The other male lead, senior Zeb Mehring, said about the cast, "The hallmark of an awesome group is when nobody truly stands out. While obviously some parts have more stage time than others, I think each cast member stands out in their own role as much as anyone else."
"Thoroughly Modern Millie" is definitely a show not to miss, as it will without a doubt bring the house down. It will open on Friday Nov. 7 at 7 p.m. in Seabury Hall's `A`ali`ikūhonua Creative Arts Center, and it will run on Friday and Saturday evenings, and Sunday matinees until Sunday Nov. 15.
About the Contributor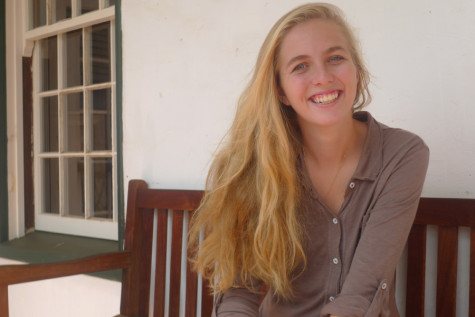 Tait Longhi, Staff Writer
Tait Longhi is a senior at Seabury Hall. She has been attending the school since her freshman year in high school, and she has enjoyed it tremendously....