Seabury Hall's volleyball girls bring the heat
Over the last two years, one team has dominated Maui Interscholastic League's girls varsity volleyball competitions and tournaments: Seabury Hall's girls volleyball team. The team has managed to continue their success throughout this season as well.
The girls varsity volleyball team has won all of their regular season games for the last two years, and the girls would definitely like their winning streak to continue, especially as they head to the state tournament on Wednesday, Nov. 5.
Savanah and Makena Janssen, two seniors who are two of the three Janssen triplets on the varsity volleyball team said, "Our goal is to have fun, beat everyone in MIL, and hopefully take home a state title."
Coach Scotty Zucco, who has been coaching at Seabury Hall since 2005, has seen a transformation in the team. In the past, the team only had a few year-round players, but now it has almost a whole team of players who also play on club teams around the island.
"Since I joined, the program has deepened greatly. We have more players playing for clubs outside of the three-month season, and it has really strengthened the team", said Zucco.
Many of the players have known each other since third grade at Kula Elementary School, where Coach Zucco was their P.E teacher. "The players have a lot of care for each other," said Zucco.
Getting to and staying at the top of the game takes determination and enormous amounts of effort. Senior Kiki Leuteneker, one of many Seabury Hall's players who plan to continue playing volleyball in collete to college volleyball said, "Our coach believes practicing hard and focused for one hour instead of multiple hours."
Coach Zucco emphasized a philosophy that he liked to follow. "My philosophy over the years was to play as many people as possible. Every kid can come back and practice volleyball, play in a game, and have fun," said Zucco.
Seabury Hall's girls varsity volleyball team comes across many challenges according to Sophia Janssen, the captain of the team. "Our competition on Maui is incomparable to what we will face at the state level. It doesn't sound like a challenge, but we need to prepare for facing teams from Oahu and more competitive schools," said Janssen.
Zucco would also like to see more smaller private schools on Maui get involved with volleyball. "We are trying to introduce beach or sand volleyball to MIL so schools with only two players could compete," said Zucco.
According to Zucco, Laurel Cameron, the girls junior varsity coach, "works really hard up here every day." Many of the junior varsity players will move up to play varsity and hopefully continue Seabury Hall's long-standing winning streak.
With the high school volleyball season coming to an end, the Seabury Hall community should wish them luck with their competition and cheer them on to states. The girls leave for the state tournament on Wednesday, Nov. 5, and their first game is on Thursday, Nov. 6.
About the Contributor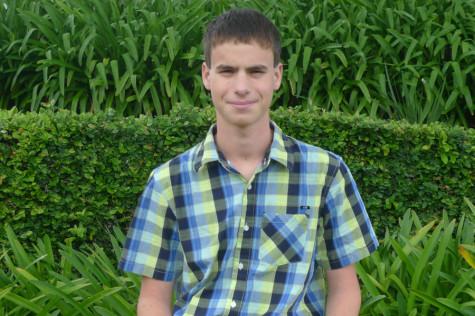 Jonah Adelman, Staff Writer
Jonah Adelman is currently a junior at Seabury Hall who has been attending the school since sophomore year. Previously before going to Seabury Hall Adelman...