Founders of Seabury Hall's football community prepare to say farewell
Muddy cleats thud against the floor. Gloved hands slam into one another. Helmets are positioned over sweaty knots of hair. A flash of blue and red is visible, as well as a "SPARTANS ON THREE! 1, 2, 3, SPARTANS!" is heard from fellow classmates and fans. The Seabury Hall Spartans football team prepares for yet another eventful football game.
The Seabury Hall football team has a lot to be proud of. So far this year, they are continuing their third perfect season. These undefeated seasons have boosted Spartan spirit. At the end of this season, though, the Spartan football team will lose 16 seniors, a significant loss to the team.
A team would be nothing without its coach. The true leader of this pack of Spartans is Coach Andrew Burger. Idolized by many, Burger is a huge reason why so many boys come out to play this aggressive and physically demanding sport each year. Burger has coached Seabury Hall football for the past five years.
When asked about the progress in the football program over these past five seasons, Burger said, "We've established a culture of discipline, being fundamentally sound and developing a team camaraderie."
One of Burger's strengths as a coach is his ability to bring out the best in his players. Senior and head caption Jaxon Stinger said, "Burger's kind of the person who accepted me first. He saw the strengths and weaknesses in me from the first day of practice, but he's always pushed me to become a better player."
Stinger, who has been playing football for Seabury Hall since his sophomore year, said, "Being a leader of that team, it's fun. Seeing the underclassmen, and even the upperclassmen being who they are, using their strengths to help us win."
Co-captain Keanu Catugal, a senior, said about stepping up as a leader, "What I'm trying to do is keep the intensity of our team up and make sure everything is going well, to play to the best of our abilities." It is clear that these graduating seniors truly care about their team and their sport as a whole.
Antonio Greco, a first year Seabury Hall freshman play for the Spartan football team (and fellow staf writer for "The Seabury Tides") said, "[The seniors] definitely encourage me every day, every practice and I just love to watch them anyway." It is this kind of mindset, this type of unity, that keeps this team such a well-oiled machine.
Overall, the Spartan football team has over delivered and broke the expectations of just about everyone. The fact of the matter is that this team has clearly come together not only has a "football team" or "unit" but as a family. For many, this is the building blocks of many friendships throughout their high school career.
Their final MIL championship game will be played on Thursday, Nov. 6. These 16 seniors, who are finishing up their last and perhaps most legendary season, will be immortalized within the teammates they have affected.
About the Contributor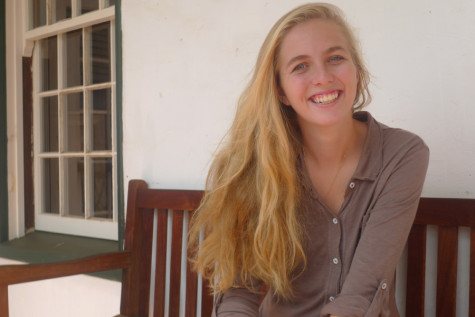 Tait Longhi, Staff Writer
Tait Longhi is a senior at Seabury Hall. She has been attending the school since her freshman year in high school, and she has enjoyed it tremendously....