Do not cross Seabury Hall's cross country girls
For Seabury Hall's cross country girls, their team is their family. This bond is what has brought them to success. They have won many meets this season and plan on winning the MIL title for their ninth year in a row.
Unlike the other sports teams offered at Seabury Hall, cross country is an independent sport. However, the cross country girls are inseparable. They hope to stay close throughout the rest of the year and beyond. Coach Grossman mentioned that when he first decided he wanted to be the cross country coach, his main goal was to make it the best team experience he could.
Since the beginning, the cross country girls have been close. Most of them mentioned that the reason why they joined cross country in the first place was to get into shape. Co-captain Christy Fell said, "But then it turned into something else. The team became my family."
On Sunday, Oct. 4, 2014 Seabury Hall's cross country girls ran the course that is seen throughout Seabury Hall's campus, the course that they had practiced many times before. It is not a surprise that they won first, third, fourth, fifth, and ninth place in this meet.
This competition was one of many triumphs of the girls cross country team this season. However, the team had to topple some obstacles after Coach Grossman's daughter, Dakota Grossman graduated last year.
Junior Ally Smith (a staff writer on "The Seabury Tides"), one of the top runners on the team, said, "In the beginning of the season, everyone wanted to fill her role and be the leader, but it was difficult to fill that place because she was such a good leader."
Grossman said that seniors Kiana Smith and Christy Fell have taken on the role as captain and have tried their hardest to fill Dakota Grossman's place. But, as Grossman said, the rest of the team needs to learn how to be followers and show commitment.
Despite these struggles, the team has kept their prestige and won first place in many meets this season. Co-captain Smith said, "I like the team atmosphere. Even though it is an individual sport, we work together."
During practice, the girls go through grueling workouts and run several miles on a daily basis. As a result, the girls are prepared for meets and ready to outrun the other teams. Grossman hopes that the team will develop more of a champion's attitude. "I see winning as making a commitment, having a positive attitude, standing up, and looking forward with confidence," he said.
Last year was the team's eighth year defending their MIL title, and they hope to make this year their ninth. Winning Division II at states has become another prominent goal for the girls. The team leaves on Friday, Oct. 31 for the state tournament on Oahu, so they will have to put all of their effort into the remaining meets of the season if they want to keep the title. They are confident that they have what it takes to succeed.
Fell said, "It's rewarding to work hard for something with people you are really close to and then succeed."
In the next month, the cross country girls will have to step it up and head to states. Coach Grossman and the rest of the girls are confident that they will succeed. Their hard work and determination will be necessary for the next win. Until then, the girls will continue to support each other.
About the Contributor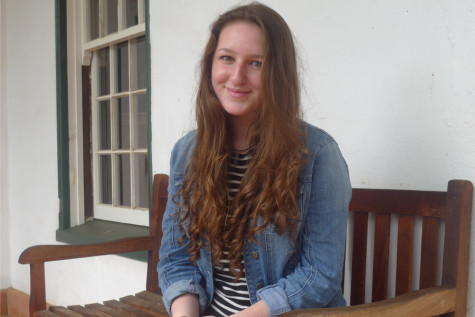 Isabella Blair, Staff Writer
Isabella Blair is a freshman at Seabury Hall. At the age of nine, she moved to Hawaii from Reno, Nevada. Blair attended Lokelani Intermediate School and...