A brilliant event inspires Maui residents to have a brilliant life
On Sunday, Sept. 28, hundreds of Maui residents gathered at the Maui Arts and Cultural Center to participate in the third annual TEDxMaui event. The attendees had much in store for the day. They would soon be inspired and empowered, as well as connected with their diverse community.
TED is a nonprofit organization dedicated to spreading ideas. TED stands for technology, entertainment, and design. A TEDx event, as TED puts it, is "a day filled with brilliant speakers, thought-provoking video and mind-blowing conversation." At these events, the presenters inspire, inform, and entertain the audience throughout the day. During the breaks, snacks are provided and attendees are encouraged to interact with new people.
The founder of TEDxMaui, Katie McMillan, was inspired to start an event on Maui after going to a TEDxWomen event in Washington D.C. When she came back to Maui, she decided to start an event for her community. The first TEDxMaui took place in 2012 at the Maui Arts and Cultural Center, and the theme was "Courage to Dream."
Kainoa Horcajo and Lia Krieg were the hosts of this year's TEDxMaui event. Horcajo has been hosting TEDxMaui since it was first founded in 2012, while Krieg has hosted for the last two years. Both are very passionate about Hawaii's culture and are well known in Maui's community. They were very interactive with the audience and gave background about TEDxMaui and each speaker in between the talks.
The theme of this year's event was "A Brilliant Life." Eighteen speakers took the stage and talked about a wide range of topics. These presenters consisted of scientists, hula kumus, musicians, performers, psychologists, surfers, wild food advocates, vagabonds, teachers, futurists, a King Kekaulike student, and more.
When sitting in the TEDxMaui audience, attendees can feel the energy in the room, and can feel their minds thinking about the ideas that are being brought to the table. Founder Katie McMillan said, "I think everyone in the room could feel the positive energy exchange between each presenter and the audience."
Attendees had a range of different favorite speakers. One that stood out was travel writer Edward Readicker-Henderson, who has spent the last twenty years traveling around the world, even though every doctor of his had recommended against it. He talked about "killing your bucket list" and just living life while you can. A quote from Readicker-Henderson that resonated with the audience was "What if I just did something while I was alive."
Another distinctive speaker was a man named Rick Rutiz, who talked about "rethinking education" and started a school building program in Hana called Ma Ka Hana Ka Ike. He founded this program 14 years ago to provide youth with learning opportunities that make sense to them.
Freediver and spearfisher Kimi Werner was another inspiring presenter, who encouraged the audience to slow down when they feel the need to speed up. She told the audience about a time when she had to take this bit of advice and ended up not being eaten by a great white shark; instead, she swam with the shark by holding on to its dorsal fin.
Speakers were not the only ones to take the stage at TEDxMaui, Adaptations Dance Theater performed and had the audience on the edge of their seats.
Outside of the theater there were several art installations and booths which had been set up to provide even more knowledge and inspiration for attendees during breaks. Some of the event's sponsors, including Rising Sun Solar, Sun Run, Suja, and Olukai, set up booths.
The creation of TEDxMaui has inspired many people from the beginning. One example was Seabury Hall Senior Jasmine Doan. She decided she wanted to create a TEDxYouth at Seabury Hall.
Anyone can go to these events. So far there have been three and each time the attendants leave feeling inspired.
McMillan said, "In every situation, if we come to the table with openness, and acceptance of diverse ideas, and a willingness to support and listen each other, then I think the sky is the limit to what we can accomplish." She hopes that TEDxMaui can serve as a catalyst for this positive change.
Staff writer Zoe Tezak contributed to this report.
About the Contributor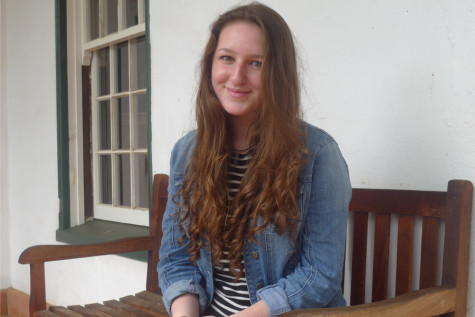 Isabella Blair, Staff Writer
Isabella Blair is a freshman at Seabury Hall. At the age of nine, she moved to Hawaii from Reno, Nevada. Blair attended Lokelani Intermediate School and...