Review: 'When the Game' stands a bit above average
In the world of sports, streaks are everything. The University of Oklahoma once won 47 straight games. New Orleans Saints quarterback Drew Brees went 54 consecutive games with a touchdown pass. One of the most famous streaks in sports was baseball's Joe DiMaggio's 56-game hitting streak on the 1941 New York Yankees. It will likely never be broken.
No streak is more absurd, or less notable, than that of the De La Salle Spartans of Concord, California. Between 1992 and 2004, the Spartans did not lose a single game. None. They won twelve straight California state championships. A total of 151 games.
Based on a true story, "When the Game Stands Tall" tells the story of the De La Salle Spartans. Riding a historic win streak, the team faces more pressure than any professional football team has faced in recent history.
Over the summer of 2004, Coach Bob Ladouceur (Jim Caviezel, best known from CBS' TV series "Person of Interest") has a heart attack. Weeks later, former star wide receiver T.K. Kelly (Stephan James) is shot and killed the morning before he was to leave to play football at Oregon. Lacking leadership from the new senior class, the Spartans lose the first two games of the season.
The movie is a feel-good movie, constantly promoting a "perfect effort." Imagine "Coach Carter" meets "Rudy," with the added drama of college recruitment. In case the constant conversations of colleges and scenes of recruiting calls do drive the point home, playing collegiate football is very important. I dare you to find a sequence of more than five minutes and fifteen seconds that does not sport a blatant logo-drop of a university with a prestigious Division I football program in the film.
The movie is undoubtedly intense. The plot spans the storyline from the last game of the 2003 season to a period of time following the 2004 season. Nearly every scene is a supposed major event in the plot.
Joe Massingill's character, Joe Beaser, is a welcome bit of comic relief. Beaser is a 6-foot-4 defensive end pushing 180 pounds. He is a lovable character, managing to land a fetching girlfriend. With an animated personality, he is never afraid to share his emotions, funny as they may be.
Jim Caviezel's portrayal of Bob Lacodeur is unlike any real football coach. Caviezel's Lacodeur is a quieter and darker character. Regardless of clout or moxie, it is hard to believe that this character could have landed a job as a football coach.
As a football fan, I thoroughly enjoyed cameos by Oakland Raiders' running back Maurice Jones-Drew, as well as legendary coach John Madden. Stay through the credits because there are clips of the real Bob Lacodeur, speaking to the real 2003-2004 De La Salle Spartans football team.
The product placement in "When the Game Stands Tall" is horrendous. No offense is more blatant than Dick's Sporting Goods. The sporting equipment supplier is everywhere. They even sponsor a football stadium at which the team plays. Allow me to clarify, Dick's Sporting Goods supposedly paid to have a high school field named after them. Don't forget about Muscle Milk. They got their money's worth too. It's convenient how the Muscle Milk label happens to be facing the camera in every scene it appears in.
All in all, "When the Game Stands Tall" is an above average movie. The message of giving a "perfect effort" is a good one, and there are no obvious continuity errors in the plot. The performances could be better, and the product placement and emphasis on college recruitment is a bit overpowering. However, the story, being based on true events, is moving. The movie is worth the price of admission.
Our Grade: B
Length: 115 minutes
Rating: PG
Genre: Drama, Sports
Director: Thomas Carter
Starring: Jim Caviezel, Alexander Ludwig, Michael Chiklis, Laura Dern
About the Contributor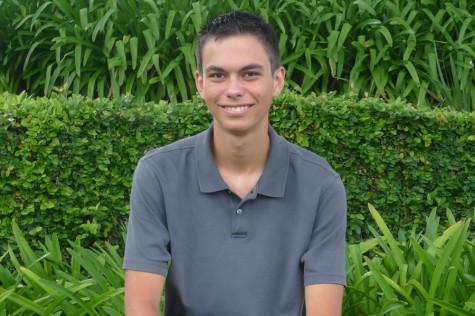 Kalan Birnie, Staff Writer
Kalan Birnie is a sophomore at Seabury Hall. He has been attending the school since his freshman year, and he is the sophomore class president. Prior to...