Señor Bailey inspires students to learn Spanish and explore the world
Experiencing foreign cultures and languages is an experience that can change an individual's views on life. Richard Bailey, a Spanish teacher at Seabury Hall, has navigated the cultures of Southeast Asia, South America, and Western Europe, bringing back his experiences to share with students in his classroom.
Prior to becoming a Spanish teacher at Seabury Hall, Bailey had a different focus on life. Growing up in a suburban town near Atlanta, Georgia, when Atlanta was considered small, Bailey developed an interest in musical composition. Striving to become an orchestral trumpet player, Bailey pursued a degree in musical composition.
After spending a whole year at Northern Texas University, Bailey realized that his future with music would most likely end with him becoming a musical director. Bailey said, "I would have had to go into the military or I would have become a band director, which is fine because I ended up in the education industry."
Bailey came from a family of teachers. "Teaching is something that runs in my DNA. I come from an entire family of teachers on both my father's and mother's side," said Bailey about his interest in pursuing a teaching career.
Soon after changing his direction in life, Bailey decided to take some time off from school to travel. Not having the funds, he worked for about a year then took off to Israel. While Bailey lived in Israel, he worked on a kibbutz, which is a collective community derived from the ideas of Socialism and religious followings that were used to create a base for Israel.
Once Bailey returned to the United States, he attended Southern Illinois University to study French and linguistics. One semester after coming back to the United States, Bailey was abroad again but this time in France studying for a degree in French for one semester.
While in France, Bailey became friends with a Spaniard that he tagged along with back to Spain. Having lived in Spain for an extended period of time, Bailey was once again in need for a source of income.
"Me actually becoming a teacher was a complete accident. I had been living in Spain, had to make some money, the most obvious thing to do was to teach English," he said.
After multiple years in Europe and two years as an illegal immigrant in Spain, Bailey eventually moved back to the United States. Receiving both satisfaction and a source of income from teaching Spanish and French, Bailey continued his career in Los Angeles, California.
Prior to living in Maui and Los Angeles, Bailey lived on Oahu for a while and said, "You get to know people when you live on an island for twelve years. They become family."
Bailey decided to settle in Maui, and he happened to know some people who had worked at Seabury Hall. Bailey is now the department chair at Seabury Hall for language classes and teaches Spanish 1, Spanish 4 Honors, and AP Spanish.
One of Bailey's Spanish 1 students, senior Ari Arkles, said, "Mr. Bailey shows his concern for all students learning and has lively enthusiasm for teaching Spanish to high school students."
Bailey's adventures have led him to some of the most interesting parts of the world. When students finish a year with Señor Bailey, they have not only learned more Spanish, but also more about the world.
About the Contributor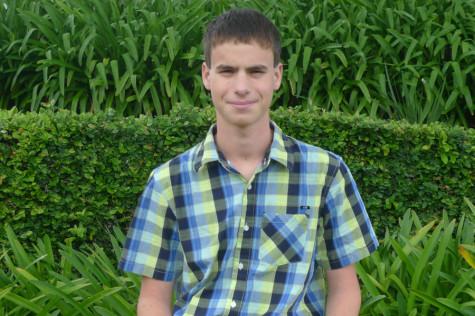 Jonah Adelman, Staff Writer
Jonah Adelman is currently a junior at Seabury Hall who has been attending the school since sophomore year. Previously before going to Seabury Hall Adelman...