Sarah Eger is eager to lead
"I see myself as a Matt Damon." said senior Sarah Eger, and strangely enough, it is true. Eger, Seabury Hall's student body president for the 2014-2015 school year, seems to be a younger, female version of the "Good Will Hunting" star and writer.
Eger runs the homeless shelter program, and she has also been on the headmaster's list since her freshman year. But more than anything else, she is a major role model in the school. Matt Damon may have some competition coming his way because Eger is making sure her final year at Seabury Hall is one no one will forget.
Eger has been attending Seabury Hall since the eighth grade. She has been involved with student council during all five year. "I was a part of the fundraising committee in eighth grade. That was the very beginning of my long reign," Eger said.
From the excitement of pushing numbers in middle school, she moved up to vice president of her freshman class, then to presidency of her sophomore and junior classes.
Unsatisfied with her freshman year, she decided to run again for president during her sophomore year. In the two years of being class president for the class of 2015, she helped raise over four thousand dollars for the class.
Eger has learned a lot in her five years of being a member of student council especially that "you just can't do it on your own."
Louis Turbeville, Seabury Hall's dean of students and advisor to the student council, agrees that Eger is going to be a student body president for the ages. "I think Sarah is going to be a great president," Tuberville said.
In regards to her leadership, Turbeville said, "Everyone takes time to figure out I think, how they want to be as far as a leader." He later added, "She's done a great job with assemblies and organization so far. And I'm sure she'll make a lasting impact on the community."
But, even the highest, most powerful student in our student body has some fears about this upcoming school year.
As student body president, Eger wants to make sure student council's events are highly attended because "participation is pretty much what makes you feel good about yourself," according to Eger.
In past years, many events have been hit or miss; many students felt like they "don't need to attend," Eger said.
This year, Eger wants to make sure every student will be dying to attend every event. "Whether it be prom or the Halloween overnighter or something, I think you should all come," she said.
After this final year of high school, Eger plans to go into "something involving the brain" and later adds, "Probing it, drugging it, I just want to touch that brain" She is planning to attend a small liberal arts college and then go to graduate school, to study neuroscience.
Regardless of what or where she is studying, Sarah Eger is going places. This year, she is certainly taking her class, and the entire student body, along with her on an adventure worthy for the books.
About the Contributor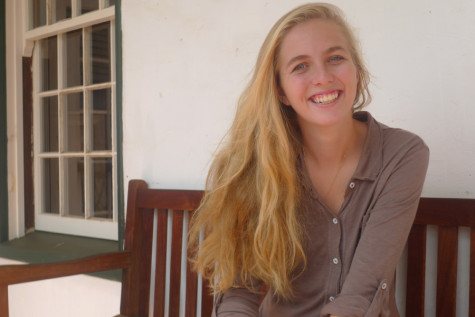 Tait Longhi, Staff Writer
Tait Longhi is a senior at Seabury Hall. She has been attending the school since her freshman year in high school, and she has enjoyed it tremendously....