Beyond the beard: Coach Scotty Zucco
Most people involved in the Maui volleyball community probably cannot tell you who won the MIL championship in 2012. But they can almost definitely identify that unkempt-looking man with the long beard who is always at Seabury Hall volleyball matches: Scotty Zucco.
"I've been growing it since 2012. My goal is to start a beach volleyball facility in upcountry Maui. And when the county gives me permission I'm going to shave it off," Zucco said.
The facility is expected to be completely finished in a few months.
"It's definitely not a style statement. My mom calls me Castro, my friends call me Duck Dynasty, some people put quarters in my coffee cup. But it's just a goal beard and once I hit my goal it's coming off," Zucco said.
Zucco is the Seabury Hall varsity girls volleyball coach and Kula Elementary School physical education teacher.
Zucco was born in Pittsburgh, Pennsylvania, and spent portions of his life in Connecticut, London, Ohio, and New York City before transplanting to Maui in 2003.
He played many sports in his youth, including basketball, soccer, football, lacrosse, and baseball. But he did not play volleyball. Zucco was not exposed to the game he now loves until his teenage years.
As a teenager living in Connecticut, Zucco babysat a wealthy child, who spent his time at the local country club. "I just started picking up beach volleyball barbeque style and ended up just playing there a little bit in my youth," Zucco said.
After graduating from Ohio University, Zucco worked in finance in New York City. The events of September 11, 2001 prompted Zucco to focus more "quality rather than quantity."
"I pretty much played [beach volleyball] solid for the first year, didn't work, didn't do anything, pretty much just lived off my 'New York City nest egg,' and that was about a year or two," said Zucco. After that, Zucco decided to start running tournaments and coaching youths.
In 2005, Seabury Hall needed a junior varsity coach. Former athletic director Steve Colflesh "took a chance," Zucco said, and hired him, despite his lack of formal coaching experience. A year later, Zucco took over the varsity squad. Since then, the team has won numerous Maui Interscholastic League championships, and many appearances in the state tournament.
With such a reputation amassed, one would expect an intimidating figure relentlessly running rigorous draconian drills. But Zucco is far from that. His trademark McDonald's coffee and long beard paired with his cheerful laughter could put any player at ease, regardless of the situation.
Senior Sophie Janssen '15, who has played under Zucco since the age of eight, shared her memory of Zucco's coaching. "I remember, one time I won a beach volleyball tournament. Coach Scotty told me, 'You should be winning every week.' Up until that point I didn't think he was a really nice person, but then it made me play like that. I felt like 'Yeah I should win! Yeah!' Even I didn't," Janssen said.
Zucco coaches on a three pointed philosophy, the first of which being "the game teaches the game."
"If you want to get better at doing a drill then do the drill, otherwise let's play the game," Zucco said.
His second tenant is "Character first, competition second." Zucco's third point in his disbelief in talent.
"Talent's not a lottery that people are just born with and some people aren't. It's just a function of work. That said, it allows me to believe in every kid, rather than just the talented ones," said Zucco.
Zucco has not always felt this way. "When I first started, I really felt like winning and making sure the girls improved was number one, and I got a little short sighted on that. Over the years, I kind of got a little more scope on that volleyball needs to be fun it needs to be social, and it also needs to be competitive. And then that's when the learning starts taking place," Zucco said.
Zucco sees his coaching career as a continual work in progress, with his crowning achievement still to come. Perhaps Coach Scotty Zucco's beard will be removed in time to hopefully unveil a state championship banner.
Both Seabury Hall volleyball teams are off to strong starts this season. The junior varsity and varsity squads are both 3-0, defeating the Trojans of St. Anthony and Nā Pueo of Maui Prep once and twice, respectively. Kiara Leuteneker '15 is hitting 0.900, with an average of 1.6 blocks per set. The varsity squad is averaging 11.166 assists per set, 3.75 of which are contributed by Savannah Janssen '15. Gabrielle Ratte '15 has 12 aces on 34 serves. The Lady Spartans have 45 aces on 208 serves as a team.

About the Contributor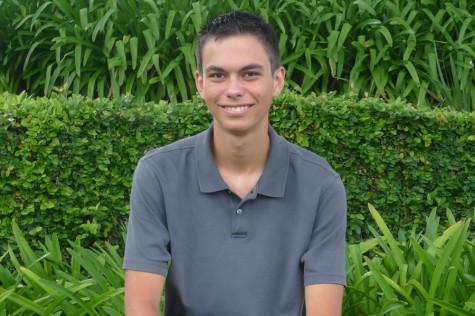 Kalan Birnie, Staff Writer
Kalan Birnie is a sophomore at Seabury Hall. He has been attending the school since his freshman year, and he is the sophomore class president. Prior to...