Ms. Middleton: Seabury Hall's beloved historian
For 20 years, Kathy Middleton has been a faculty member at Seabury Hall. As the upper school U.S. history teacher, Middleton is well known in the Seabury Hall community.
Middleton always wanted to be a teacher for different reasons. She always enjoyed going to school, she did well in her classes, and she loves the subject of history. Middleton enjoys her job and feels lucky to be able to talk about history every day with Seabury Hall's juniors.
"It's critical to learn about the past to understand the present and to look at the future," said Middleton.
"Ms. Middleton is probably the nicest teacher. She's very funny, and she has her own words, like 'wiki-wiki' and 'a table s'il vous plait' and that's called being 'facetious.' She tells us a couple times a year that 'facetious' means like sarcastic," said Makena Jost, a senior student and one of Middleton's past students. Jost also said, "She's a lot of fun, and you can always go to her if you need someone to talk to."
Middleton has lived in Hawaii since 1970 and has been a faculty member at the school since 1989. She decided to teach at Seabury Hall because she thought that the school would be enjoyable to teach at and because her daughter and son went to Seabury Hall.
"I really like Seabury. My daughter went here and my son went here, and I felt that Seabury offered the best education available on Maui," said Middleton.
Middleton has had many memorable moments during her years of teaching, such as times when there is a sense of community among the students and staff, when an event in the classroom happens that is both humorous and unexpected, and when her students graduate and are well and happy.
During her years working at Seabury Hall, Middleton has learned some valuable lessons from the school's community, like appreciating the variety of people and not taking things too personally. She has also learned how to laugh more at herself and to support the students without being their friend.
"You can be friendly with the teenagers, but they have lots of friends. You really need to make that distinction," said Middleton.
Middleton has also been the dean of the junior class for a many years. Being the junior dean gives her the responsibility to keep the juniors on track, especially if the students have academic struggles. Middleton's job may also require having difficult conversations with juniors if she needs to. However, Middleton enjoys working with juniors and plans on helping the students as much as she can.
Middleton is beloved among the Seabury Hall community. She is known to tell stories in her classes about other people on Maui. She is respected among her students and faculty members.
"I see her as a very capable, competent, veteran teacher who has a mastery of her subject matter," said Michael Stone, a freshman and sophomore world history teacher.
Middleton is a wonderful teacher in the Seabury community. Her passion and mastery of her subject matter has benefited Seabury Hall for the past twenty years. She has been a huge part of the Seabury Hall community and still continues to have a great importance for the school.
About the Contributor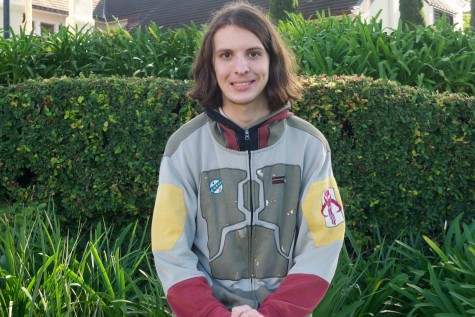 Logan King, Staff Writer
Logan King returns into the action of journalism for the second year, as he has previously been a part of the Seabury Tides staff in his junior year. He...