Amy Lord: The woman behind the curtain
Behind every Seabury Hall production is a woman that not many people know of: Amy Lord.
Lord is currently working her third year at Seabury Hall as a stage manager and technical director for the school's performing arts department. Theater production has been her passion for a very long time.
Lord first found her interest in theater in high school. "A teacher found me and asked me to sign up for his class; it happened to be a theater class. Then, I started fitting in, and it was a done deal. I was hooked," Lord said.
She started in high school running tech and stage design. Her interest in this profession lead her to study theater and directing at Columbia College in Chicago. While in college, she began working professionally for local Chicago theaters. Realizing that she no longer needed to study, she decided to leave school and work full time.
While working for "The Oprah Winfrey Show," Lord and her life partner took a trip to Maui for vacation. Her partner fell in love with the island, and they decided to move here.
"My partner fell in love with the island. So, I bought my house here in '99, and the summer of 2001 I turned down a four-year contract with Harpo Studios and moved out here to start a family," Lord said.
On Maui, Lord began working freelance for various productions. While working for the Maui Academy of Performing Arts, she met Todd Van Amburgh, an English teacher and play director for Seabury Hall, and began working as a casual hire for the school.
"I have come to rely on Amy not only for her knowledge and experience with theater but also because she is easy to work with," Van Amburgh said. This year will make her third year working at Seabury Hall's `A`ali`ikūhonua Creative Arts Center.
"Amy is one of those people that you are so intimidated by purely because of how amazing they are," said Seabury Hall senior Sophia Hill, who has worked alongside Lord in various performing arts shows.
Lord has always loved the theater and continues to show that love in every production: "There's always that itch. Even if you go off and do something else, it feels like it's missing something. You'll always come back," she said.
Her love for theater drives her to be as involved as possible. She shows this to students at Seabury Hall by helping Todd Van Amburgh teach students about various theater positions in the stagecraft and design class. "I really appreciate that she works well with the students," says Van Amburgh.
Lord has used her prowess to benefit many Seabury Hall shows, ranging from dance showcases to plays to student-run productions. She especially enjoys the Art with Heart shows since they are a different type of production and they are very interesting.
Although she does not have any specific shows she would like Seabury Hall to undertake, Lord thinks that there should be an annual musical rather than the biennial schedule currently in place.
Lord also suggested that there be more chances for "One Acts," Seabury Hall's annual performance of a collection of short plays. Lord sees the "One Acts" as a change of pace to the productions because they usually feature students that may not usually appear in the regular school productions. She likes to see others perform outside of the normal realm of actors she has worked with for the full length plays.
Lord believes that if you really want to be a part of something you love, do whatever you can to help: "If you really love theater, then learn how to sweep the floors."
Next time you attend a Seabury Hall play, look for Lord in the tech booth or maybe backstage and thank her for the amazing work she has done for this community.
About the Contributor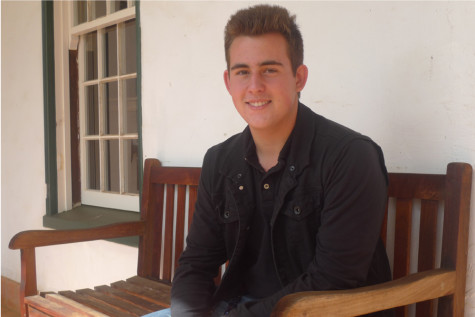 Owen Meadows, Staff Writer
Owen Meadows is a junior at Seabury Hall, and he has attended the school since the sixth grade. Meadows was previously a staff writer for "The Seabury...