Senior Jasmine Doan has ideas worth spreading
The spotlights shone down on the face of a young student who was about to share his inspiring ideas with the audience at last year's [email protected] event. This young man would not have been standing there nervously and excitedly without the work of one Seabury Hall student: senior Jasmine Doan.
Doan is the founder of [email protected] Not only is she the founder of this huge event, but she is also the president of Seabury Hall's math team.
Since the eighth grade, Doan has been watching TED talks. When it was announced that there was going to be a TEDxMaui event, she learned that she could create her own TED event for her community.
Doan first decided that she wanted to create a TEDxYouth event when she was in the 9th grade. She approached Seabury Hall's librarian, Linda Lindsay, with the idea. Lindsay was initially astounded when Jasmine approached her, thinking it was a "pipe dream." However, Lindsay quickly realized Doan was serious.
"But then when I looked at her, and saw the expression on her face, I knew that she was dead serious," Lindsay said.
"TEDxYouth is an all-day event, kind of like a brain spa, where you learn about different ideas from youth on Maui," Doan said.
Lindsay said that [email protected] was Doan's first time taking on such a huge endeavor. Doan learned many lessons from running the TEDxYouth event, but she said that the challenges she faced benefitted her. She learned about persistence, leadership, and teamwork, as well as to expect the unexpected.
"Connecting with the attendees and hearing about their favorite speakers" was one of Doan's favorite parts of the event itself. She found that listening to the audience's feedback was rewarding after all the hard work she put into the event. "It just makes you feel really good that our speakers inspired them," Doan said.
This school year, Doan will be an advisor for Seabury Hall junior Jacob Alabab-Moser and Baldwin High school senior McKayla Wandell, who will be organizing the event. Doan wants to make sure that everything goes smoothly and that the event will continue even after she graduates from high school.
Doan hopes to see more presenters from different schools, more attendees, and more middle school speakers. "I really see it growing," she said.
Besides being the founder of the first TEDxYouth event on Maui, Doan takes part in Seabury Hall's math team. They compete in local, state, and national competitions while also participating in community service.
After being a member of the middle school math team, Doan realized that there was not a math team for the high school students at Seabury Hall, so she founded the first upper school math team.
The math team helps students in the Seabury Hall middle school with their math and conduct a "Math Circle" where they talk about advanced math concepts with elementary school students. Doan said, "It's rewarding when we work with students who aren't very good at math."
Getting to know students personally is one of Doan's favorite parts about the math team. One of these students is Lilia Maeda, the vice president of Seabury Hall's math team. Maeda first met Doan when she was a freshman and a new member on the math team. She admires Doan for her leadership and communication skills. Maeda said, "She does everything. She keeps us in check, and she sort of ties the whole team together."
Outside of academics, math has provided Doan with better leadership, persistence, and problem solving skills.
Doan said that her parents have always made sure she knows that education is the top priority and that it is her responsibility to do well. Her mom, Shirley Doan, used to give her math worksheets after school. Her family's academic expectations have motivated her to succeed in school.
Doan will be missed when she leaves Seabury Hall after the 2014-2015 school year. Both Maeda and Lindsay talked about how much they will miss her. Lindsay has been a mentor for Doan since being her advisor in the seventh grade. They have had a very close relationship since then. Lindsay feels like there will be a sort of emptiness after Doan leaves, but she does not want to hold her back.
After high school, Doan plans on majoring in business at a four-year college; she often reads about business ideas on entrepreneur websites. She has applied to multiple colleges and is leaning towards somewhere in California or on the East Coast.
It is just the beginning of the school year, so Doan has a whole year to do amazing things. We can expect Doan will continue working on more interesting projects, like the [email protected] event and the upper school math team, during her senior year and beyond.
About the Contributor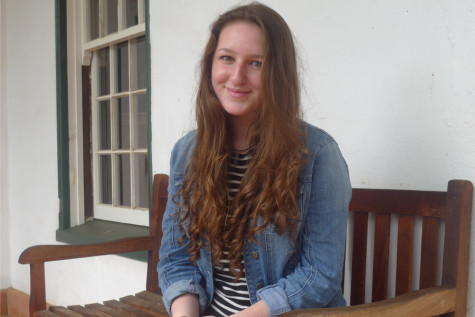 Isabella Blair, Staff Writer
Isabella Blair is a freshman at Seabury Hall. At the age of nine, she moved to Hawaii from Reno, Nevada. Blair attended Lokelani Intermediate School and...